Did you ever dream about surfing in Tenerife? There this beautiful hostel in the south of Tenerife, where the sun is always shining, and surfing is the way of life!

Only to wake up in a cold bed, somewhere far, far away and realising that it is time to get up and go to a tedious office job? I did.
Let me introduce myself briefly – I am a normal 30 something girl, with a regular job, pretty healthy life living in a small city in Europe. Nothing wrong with that, I agree – but from time to time, we all need at least a break from our routine if not a complete change of life direction.

Usually, these breaks occur while we go on vacation or when we immerse ourselves in our favourite activities or on those rare moments when we leave our guard down, and we try something new- something entirely out of our comfort zones.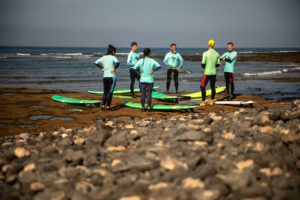 As I was saying – I started to have these ideas and dreams about going to a place where the sun always shines, where people are friendly and where I could try surfing. I woke up every day more and more convinced it is time to go someplace new, someplace I knew I would love. Somewhere where I could surf in the morning, even before my coffee and where I could go to bed surrounded by beautiful nature. Somewhere where life is more straightforward and more honest.
I found that place and with it my next vacation destination: I am going to Canary islands – more accurately I will be visiting south of Tenerife, where I will be spending my days surfing at the beautiful Twin Fin Surf Camp, ideally located between idyllic beach and banana plantation.

Read my next entry, where we will explore the island of Tenerife together.